Photography by Marie Fontaine
So these plants are actually available to buy on Etsy.com at:  http://www.etsy.com/listing/86302987/jellyfish-air-plant-and-sea-urchin
 These can be easily made at home though.
You will Need: Sea Urchin Shell (craft store or Wal-mart), Tillandsia Caput-Medusae plant (Local plant nursery, Lowe's, Wal-mart), Planting Soil, Fishing Line, Paper Clip.
*Thread the fishing line (however long you want it) through the top hole of the shell and tie it to a paper clip on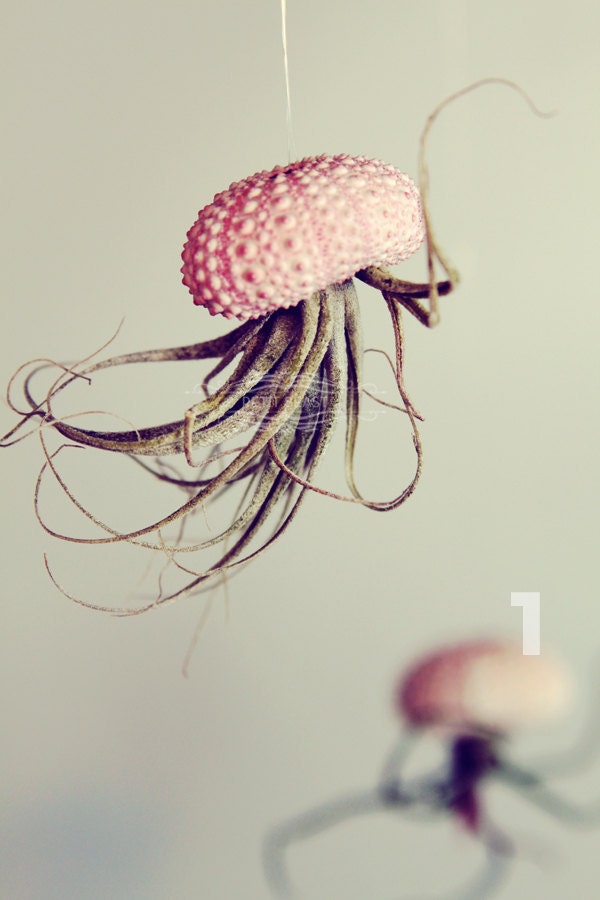 the inside of the shell, this will hold the fishing line in place. Using the proper type of soil for the Tillandsia plant (care instruction will be on the plant when you buy it) plant the Tillandsia in the shell.
Do not hang plant right away. Follow plant care instructions until plant has take strong root. Once plant feels strong and sturdy you can finally hang your jellyfish!
To care for it, keep soil moist by misting with spray bottle every day (these plants thrive in the hot humid jungles of southern Mexico). Keep in a well sun lit area.
tombie reblogged your photo: My new love: Hanging gardens. The pictures lead to…
I went to the site. Didn't find the jellyfish. :((
Reblogging from my anatomy blog
Vintage Anatomy Envelopes! Get them on Etsy.com
(via absoluteanatomy)